Here's a place where I put all the in between things. What I'm reading, what inspires me, travels near and far, recent press and the occasional musing on life as it rambles on. From 2007 until mid 2011, I lived overseas in Heidelberg, Germany. In those formative years, a wide-eyed 20-something, living outside the country was one of the most enriching and fulfilling experiences of my life. And I kept a blog, called "Apfel ist Apple" that was updated almost daily. The time overseas informed much of my current world view and the values I have come to hold dear today. But, it was also a period of youth, of naiveté and of unbridled discovery. The kind that comes with beautiful untethered eagerness to soak everything in. If you're curious, feel free to visit the archive on the right -> It's terribly dated, not terribly profound, but it is genuine. A time capsule.
BOOKS & FILM
Inspirational (short) films
I could watch this video over and over again. Such luscious, luscious butter.
OK, it's a Christmas ad, but it's brilliant. Wes Anderson is among other things, master of composition. I never cease to be inspired by his creativity, nor miss one of his features.
BOOKS & FILM
On my bookshelf
Of late, I find myself drawn to the English countryside and the books stacked by my bedside verify it. There are also assorted journals from my favorite place to buy such things in Berlin called 'Do You Read Me?' Also, Zadie Smith's latest, which is great. During an interlude between meeting different friends one night, I had a few moments to kill and so wandered into Dog-Eared books on 20th where I picked up Chimanda Ngozi Adichie's 'We Should All Be Feminists.' I loved her novel, 'Americanah' and immediately picked this up. Her name drew me. The title drew me. But this was a good two weeks before the womens march on Washington DC. It proved to be a wise choice.
.
If you can't tell, I'm a fairly voracious reader. An addict, even. Bookstores can be dangerous to me, because it's hard for me to walk out without a handful, at least. If you can believe it, I own a Kindle. But I adore print. And in the end, despite the inconvenience of size and weight, and even the cost I still prefer the print. I'm not sure why because e-readers are great, and the idea of so many reading options in one small, handy device is a thrilling concept. But for me the tactile physicality wins out. That, and repetition of seeing that cover over and over again, is somehow comforting. There's a greater sense of accomplishment and downright satisfaction to turn a page you can grab with your fingertips
So here's a quick rundown of them individually; Milk and Honey is a book of minimal yet beautiful poetry. Meadowland the lovely account of a year in the life of a working English Meadow in Herefordshire. The Smart View concerns Instagram photographers. We Should All Be Feminists is a manifesto of sorts and call to action and awareness. Apartamento is my very favorite journal, utilizing an interview format about space and design.Swing Time is Zadie Smith's latest and it's fantastic. Benji Knewman is a journal of life, culture, and art that was so beautiful, I couldn't pass it up at the shop. Finally, The Travel Almanac is a neat interview-style journal based and printed in Berlin with anecdotes and stories focused on (naturally) travel.
CULINARY
This is from Roy
It's the finest panettone I have ever had, and worth every penny. It's also the most expensive. According to Roy, it "is the product of my obsession" and it shows. It's beautiful, fluffy, airy and light yet rich, tangy, chocolatey and utterly delicious. He uses a natural yeast starter to leaven his panettone which gives it both depth and beautiful color. The balance is perfect, and despite the price tag I would order it again. Next up, the citrus white chocolate, or whichever special flavor he conjures up for the next holiday season. Although this was an early Valentine's Day gift for my honey (ok, myself) - I'll surely revisit come Christmastime.
CULINARY | TRAVEL
Turnbull Wines
There is something particularly cozy about wine tasting on a drizzly, grey day. Perhaps it's the feeling of being ensconced in beautiful vineyards out the rural wilds of wine country, tucking into a great glass of cabernet with good friends. A fire might await later. But you've managed to get outside for a while and the brisk air greets you and rejuvinates. As if the earth wants to say, "Here I am, living, breathing, cleansing and renewing. And you get to take part in my beauty, my bounty, and my splendor. Aren't you lucky?"
CULINARY
Barzotto
Barzotto is the new venture from Marko Sotto with Chef Michelle Minori (previously of Ne Timeas) at the helm. It aims to be your neighborhood home away from home restaurant. They'll feature five or so pastas rotating nightly, and made fresh on display in an open-style kitchen so you can watch the food production and whet your appetite. The menu also includes boards featuring roasted items meant to be shared, including porchetta and a whole roasted chicken, plus a pair of truly mouth-watering robust salads.
By focusing on approachability with affordable prices, Barzotto fills a gap in San Francisco's much-needed restaurant landscape. As Sotto describes, "Pasta is historically a peasant food and right now in SF, those people cooking the pasta cannot afford to eat the pasta." I was fortunate enough to get a sneak peek (and taste) when I photographed these delicious dishes for their PR, website and marketing. It's great to see a new concept open in SF--a city plagued with soaring rents where the cost of living is sky high--focused on smart, well-prepared food that is also affordable. A kind of place the family can go for a good meal out without breaking the bank.
DESIGN
Home Tour, Alberta Arts District, Portland OR.
My dear friends, Jess and Aldo moved recently from San Francisco up to Portland, Oregon with their daughter Franny. Like others before them, they found a haven in Portland, the likes of which is almost almost not possible in SF any longer. Which saddens me deeply. But lets not dwell on that here.
Ever since first stepping foot in their previous home, I've been keen to capture their home aesthetic. It's full of gorgeous, large, interesting art that doesn't ask you to adopt any false preciousness, but still inspires. But for me, its more than that. They create spaces that are both eclectic and vibrant, yet serene and polished. Most of all, it's completely them, utterly unique. There's no copy-catting from trendy big box retail catalogs or popular design blogs. Which is wonderfully refreshing to me. Take a look and see if you agree.
_
The large format color field paintings you see in the first two images are by Aldo, who is an incredibly talented artist in his own right. If you would like to learn more, find him at aldovaldez.com and @blackrayola.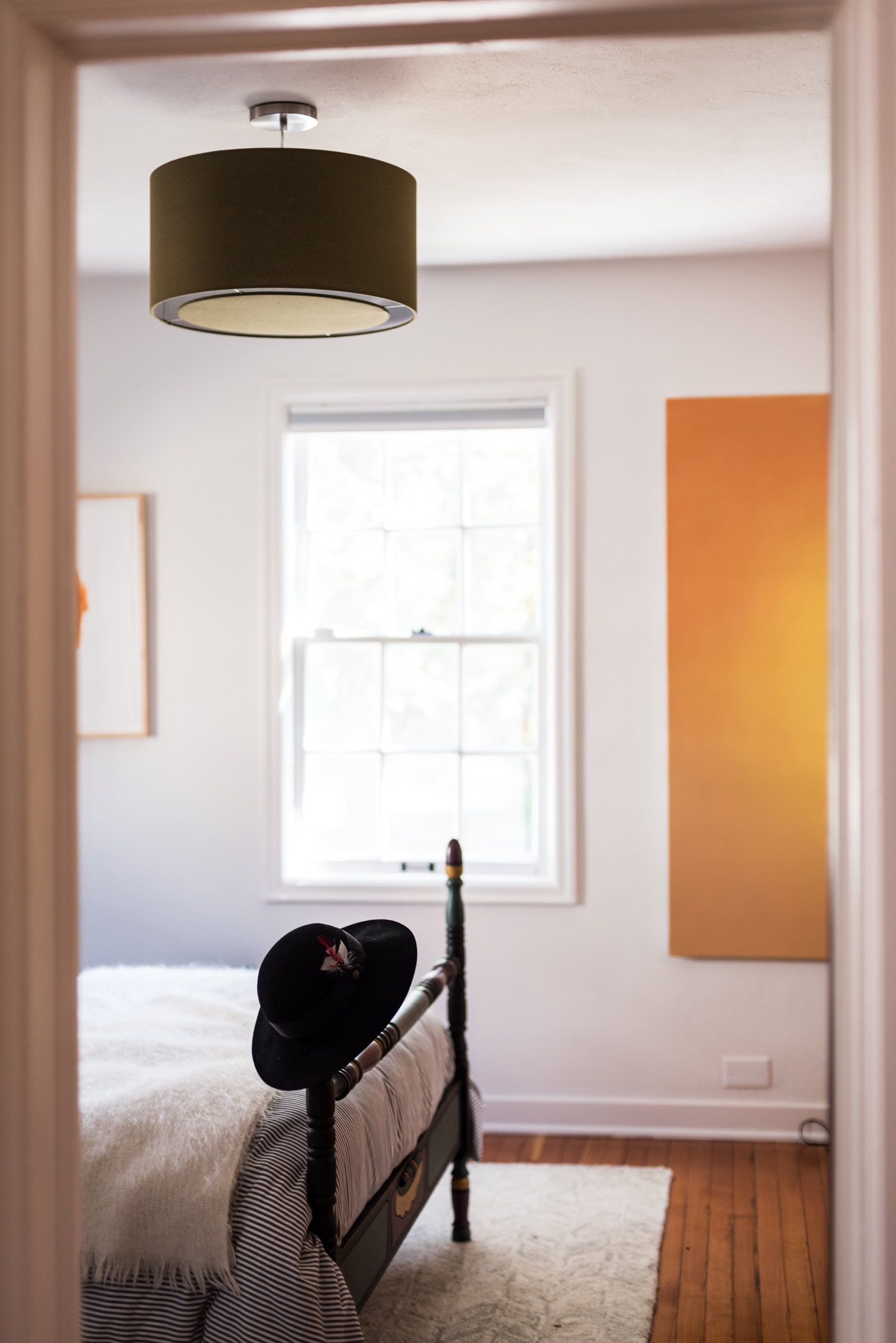 TRAVEL
Summer in Portland.
I spent an idyllic summer week in Portland, recently, visiting friends in the Northeast and my Aunt and Cousin in the Southeast. Portland is lovelier and certainly cooler than my memories of it as a child. My parents both grew up there and I spent many a Thanksgiving riding up to have dinner with my relatives.
These days there's an exodus from SF to Portland, and it's understandable to me now why. Similar ideals, similar coastal locale, similar vibrant food scene, but lo - the cost of living is so much lower. What my friends could afford in Portland compared to SF is vastly different. A small apartment versus a whole house and small yard.
The photos I took while visiting have become some of my most cherished recent work, months later. Sometimes everything just feels right and the results are so good. They're lush, light, fun, genuine and so evocative of the trip. It was truly restorative, fulfilling, life-affirming. What I needed at that time more than I realized. I believe the images reveal the contentment in my heart, the feeling of letting go and practicing being present.
The shots here are of the Northeast part of the city near the Alberta Arts District and closer to downtown as well. From the cherries I had for breakfast, to Franny's summer dress, to the flowers in full bloom - it drips with summer. And all the joys that can be had.
Perhaps Portland feels a bit heavenly to me now because I am reaching my middle-later 30s and I'm yearning to homestead. But there's a nostalgia mixed in as well. My parents are both from Portland and I grew up road tripping from Napa with my brothers and sister every Thanksgiving to see the extended family and celebrate with them.
This is the land of porches and local beers and parkas. And relishing the weirdness and kookiness in others. A bit like San Francisco used to be. Before all the money and all the industry. Or should I say industry followed by money?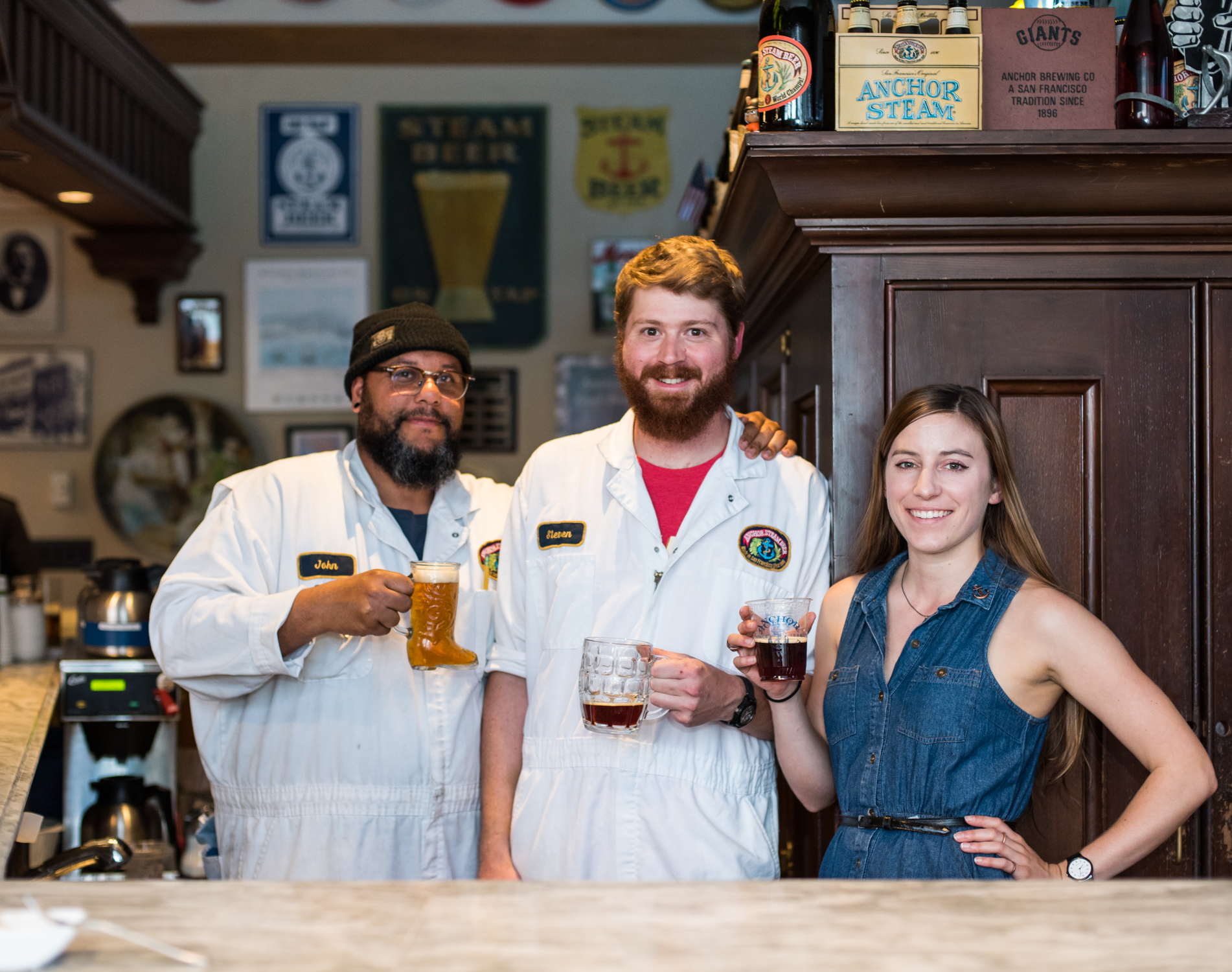 CULINARY
Anchor Steam Brewery
The rich history of Anchor Brewing can be traced all the way back to the California gold rush, when German brewer Gottlieb Brekle arrived in San Francisco with his family.
Gottlieb Brekle bought an old beer-and-billiards saloon on Pacific Street near Russian Hill for $3,500, transforming it into the American brewery that, twenty-five years later, would be renamed Anchor.
German brewer Ernst F. Baruth and his son-in-law, Otto Schinkel, Jr., bought the old brewery on Pacific (the first of six Anchor locations around the City over the years) and named it Anchor. No one knows why Baruth and Schinkel chose the name Anchor, except, perhaps, for its indirect but powerful allusion to the booming Port of San Francisco.
Today, Anchor Brewing remains one of the most traditional breweries in America, a pioneer of the craft brewing movement. Though its top beers—especially Anchor Steam® Beer—are known throughout the world, they are all still handmade in Anchor's handsome copper brewhouse in San Francisco, California.
PRESS
@ellophotography
A lovely photo of mine, of a truly lovely view was recently reposted by Ello Photography. I was thrilled and delighted to be featured! It was shot last summer in June overlooking the sublime Caldera View near Fyra in Santorini Greece. Thanks, to the Ello photography community - I'm always enriched and inspired by my fellow artists who contribute work in that space. I realize practically no one is on Ello, but you really should try checkin in once in while. There are some lovely works out there. No ads, no fluff, no endless baby photos. I bet you'd feel a little more fulfilled during a five minute span of time browsing than on other (ahem) social networks.